Trial Landscape
Boost Clinical Trials with AI-derived
Clinical Trial Site Performance Data, Diversity Insights & PI Profiles.
Uncover a diverse pool of investigators and sites that have access to the right patient population to run a successful clinical trial based on past performance and future indicators. Leverage collective clinical trial performance knowledge by participating in the H1 performance data network.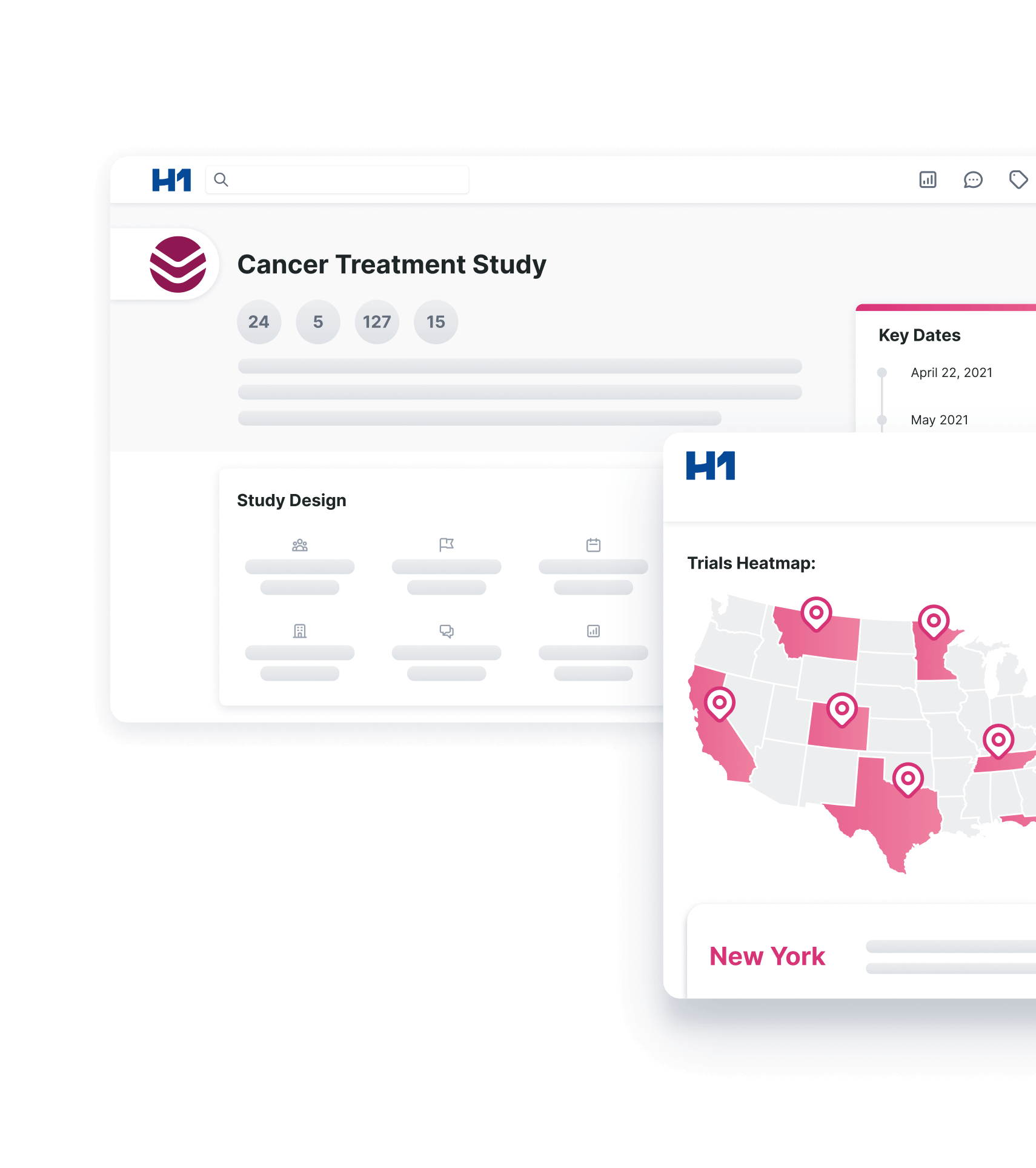 Running equitable clinical trials requires access to physicians that treat diverse and underrepresented patient cohorts and sites with previous success.
Trial Landscape fully integrates diversity, inclusion and performance data so clinical trial planning and recruitment strategies are effective and efficient. Trial Landscape combines unmatched clinical trial data and analytics to generate principal investigator and site profiles, deliver unparalleled performance benchmarking and competitive landscape understanding. With Trial Landscape, organizations and clinicians can leverage a global clinical trial knowledge base to unlock outstanding clinical trial performance and outcomes.
H1

Performance Data Network
Tap into anonymized and aggregated clinical trial performance data from Clinical Trial Management Systems on at the investigator and site level.
Incorporate

Patient Population Analysis
Test and verify hypotheses on patient populations and get baseline measurement.
Understand patient population distribution by age and gender at the state, city, or zip code levels.
Understand

Trial Site Performance
Uncover sites accessible to relevant and diverse patient populations.
Discover trial naïve sites.
Understand sites that minimize burden for patients.
Profile

Principal Investigators with Access to Diverse Patients
Understand which doctors are currently treating diverse patient populations.
Help meet trial diversity targets.
Support

Enrollment at Existing Sites
Leverage surrounding sites and HCPs to uncover referral networks and empower recruitment efforts.
Reduce delays in enrollment of relevant patients.
Clinical Trial Data

& Intelligent Analytics to Make the Work of Clinical Operations Teams Easier

When it comes to the development of new medical treatments and diagnostic tests, clinical trials are an absolute necessity. Yet, despite the billions of dollars and decades spent planning, many clinical trials are unsuccessful due to limited clinical trial data visibility.

A first of its kind, Trial Landscape is an exhaustive clinical trial data repository that incorporates global and local trial registries as well as diversity and inclusion insights to support more representative trial recruitment and engagement.
Produce timely and relevant scientific data
Use the results of their clinical trials as well as insights from trials being run by other organizations to develop new treatments and drugs
Impact patients directly by ensuring proper representation throughout clinical trial phases
In one comprehensive and intuitive platform, clinical operations and feasibility teams can speed up every step of the clinical process – from early phase clinical research all the way to drug launch – by supporting data-driven decision making based on continuously updated global insights.
Trial Landscape Helps You
Launch

Diverse Clinical Trials

Differentiate diverse physicians and target populations who might be eligible to participate in current and upcoming clinical studies.
Draw

on a Global Single Source of Truth

Benefit from the most comprehensive clinical trial data available, combining public data, proprietary datasets and private knowledge PIs and sites in one platform.
Deploy

Smarter PI and Site Selection Strategies

Compare internal clinical trial intelligence and performance metrics against industry benchmarks to enable more effective engagement and selection strategies for sites and PIs used by competitors and similar study designs.
Value Add Modules
Empower teams to make impactful decisions that advance medicine.
H1 Data Network
Combines client-specific data elements (i.e., CTMS data) with H1's vast HCP data to amplify the impact and insights.
Site Analysis
Analyze sites by understanding the impact of research taking place there and evaluate their experience, capacity and interest to support clinical trials.
Investigator Profiles
View the experience, capacity and patient access and potential engagement capabilities of investigators of interest.
Diversity & Inclusion
Access a number of diversity and inclusion metrics on both providers and their consecutive patient populations.
Performance Benchmarking
Provides access to aggregated trial performance metrics for PIs and clinical trial sites to create relevant industry benchmarks and drive experience-based decision making.
Services PI-InSite
Distinguish clinical experts among potential principal investigators, delivering a better understanding of healthcare providers and their ability to run a clinical trial for a sponsor. Includes patient coverage and map visualizations of where specific investigators work.