Trial Landscape
Launch Successful Clinical Trials with AI-derived Insights Based on
Clinical Trial Performance Data, Diversity Insights & PI Profiles.
Launch diverse and successful clinical trials with access to the most comprehensive pool of investigators and site insights, and clinical trial performance data and benchmarks.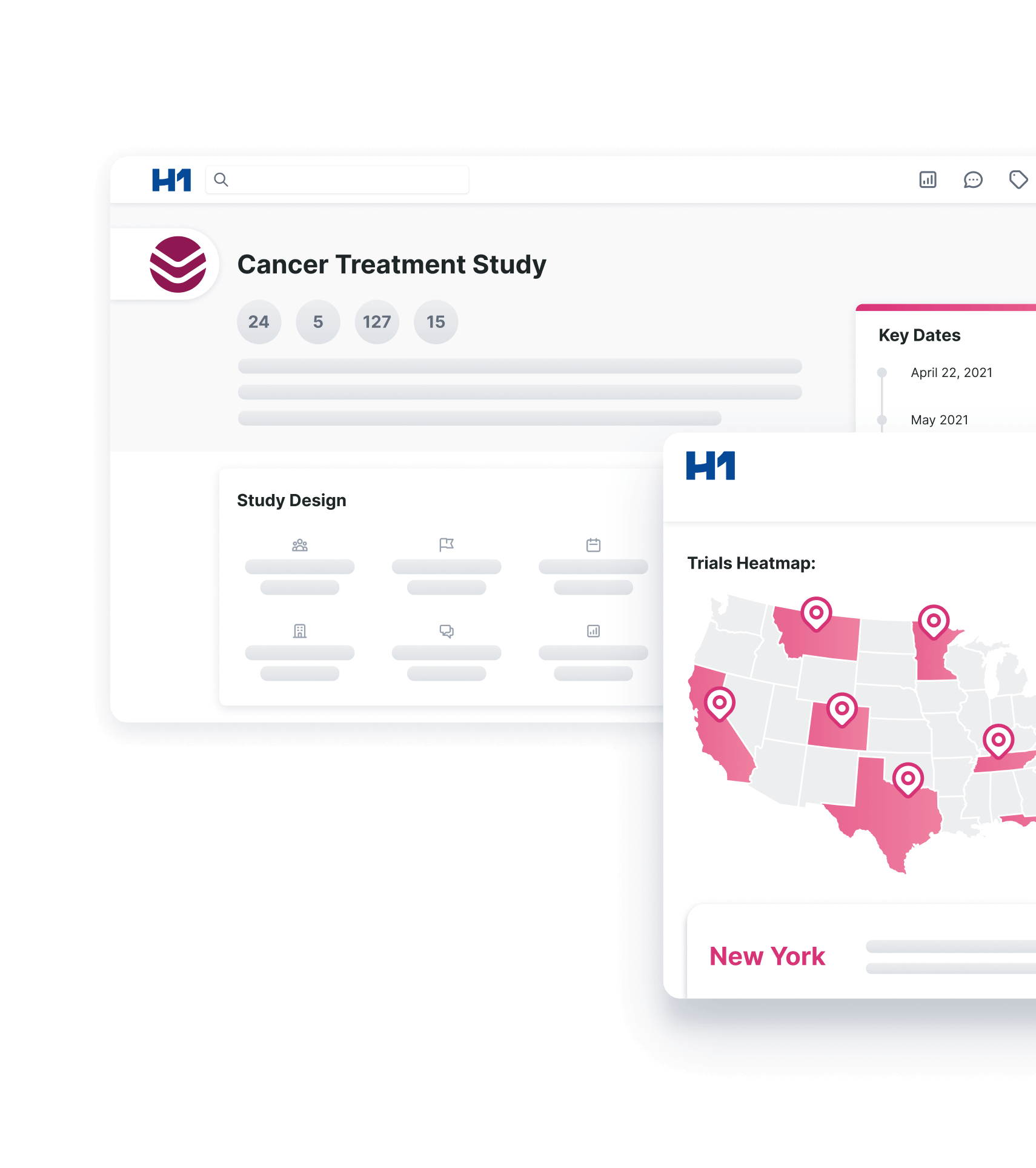 H1's Trial Landscape is an enterprise platform that combines proprietary, public and client performance data to
accelerate the drug development

and launch cycles.
A first of its kind, Trial Landscape is an exhaustive clinical trial data repository that incorporates global and local trial registries as well as diversity and inclusion insights to support more representative trial recruitment and engagement. Trial Landscape leverages ChatGPT, conversational AI and fully integrated diversity, inclusion and performance data, to enable Life Sciences and Clinical Research Organizations in their efforts to build effective clinical trial and recruitment strategies. 
Trial Landscape
in focus:
GenosAI™
Clinical Trial Performance Data Network
Clinical Trial Site Analysis
Principal Investigator Profiling
Diversity Dashboards
GenosAI™
H1 layers conversational AI & chatGPT functionality on top of our robust clinical trial data - allowing users to query millions of data sources and get relevant answers quickly. Customers can ask to see the top PIs or sites involved in trials across any TA, generate profiles, tag them within the system and more.
Clinical Trial Performance Data Network
H1's Performance Data Network is comprised of industry partners sharing their CTMS data. This information is then anonymized and aggregated on an investigator and site level, generating accurate industry trial performance benchmarks, empowering users to make experience based clinical decisions.
Clinical Trial Site Analysis
Customers can analyze sites by understanding the impact of research taking place there and to evaluate their experience, capacity and interest to support clinical trials.
Principal Investigator Profiling
Users have access to comprehensive profiles of currently active and potential investigators. These profiles include details on the academic experience of investigators, such as publication and congress involvement, as well as clinical experience through the patient population access and clinical trial involvement.
Diversity Dashboards
Our dashboards make it possible to identify and breakdown patient diversity within any indication or location in the US. Clients benefit from direct access to patient diversity benchmarks within any disease area, based in therapeutic area, indication, or claims code filters.
H1

Performance Data Network
H1 Performance Data Network
Tap into anonymized and aggregated clinical trial performance data from Clinical Trial Management Systems (CTMS) on at the investigator and site level.
Incorporate

Patient Population Analysis
Incorporate Patient Population Analysis
Test and verify hypotheses on patient populations and get baseline measurement.
Understand patient population distribution by age and gender at the state, city, or zip code levels.
Understand

Trial Site Performance
Understand Trial Site Performance
Uncover sites accessible to relevant and diverse patient populations.
Discover trial naïve sites.
Understand sites that minimize burden for patients.
Engage

Principal Investigators with Access to Diverse Patients
Engage Principal Investigators with Access to Diverse Patients
Understand which doctors are currently treating diverse patient populations.
Help meet trial diversity targets.
Accelerate

Clinical Trials
Accelerate Clinical Trials
Surface critical insights into competitive trials.
Assess and identify the most suitable sites for trials
Runs on H1 and client data sources to unlock historically siloed insights
Support

Enrollment at Existing Sites
Support Enrollment at Existing Sites
Leverage surrounding sites and HCPs to uncover referral networks and empower recruitment efforts.
Reduce delays in enrollment of relevant patients.
Platform
Trial Landscape is a cloud-based clinical data knowledge platform that helps healthcare teams profile and analyze diverse physicians and patient populations to participate in trials. It enables comprehensive site and investigator research, cutting edge assessment and validation, sorting and prioritization metrics, diversity and inclusion data, and feasibility assessment.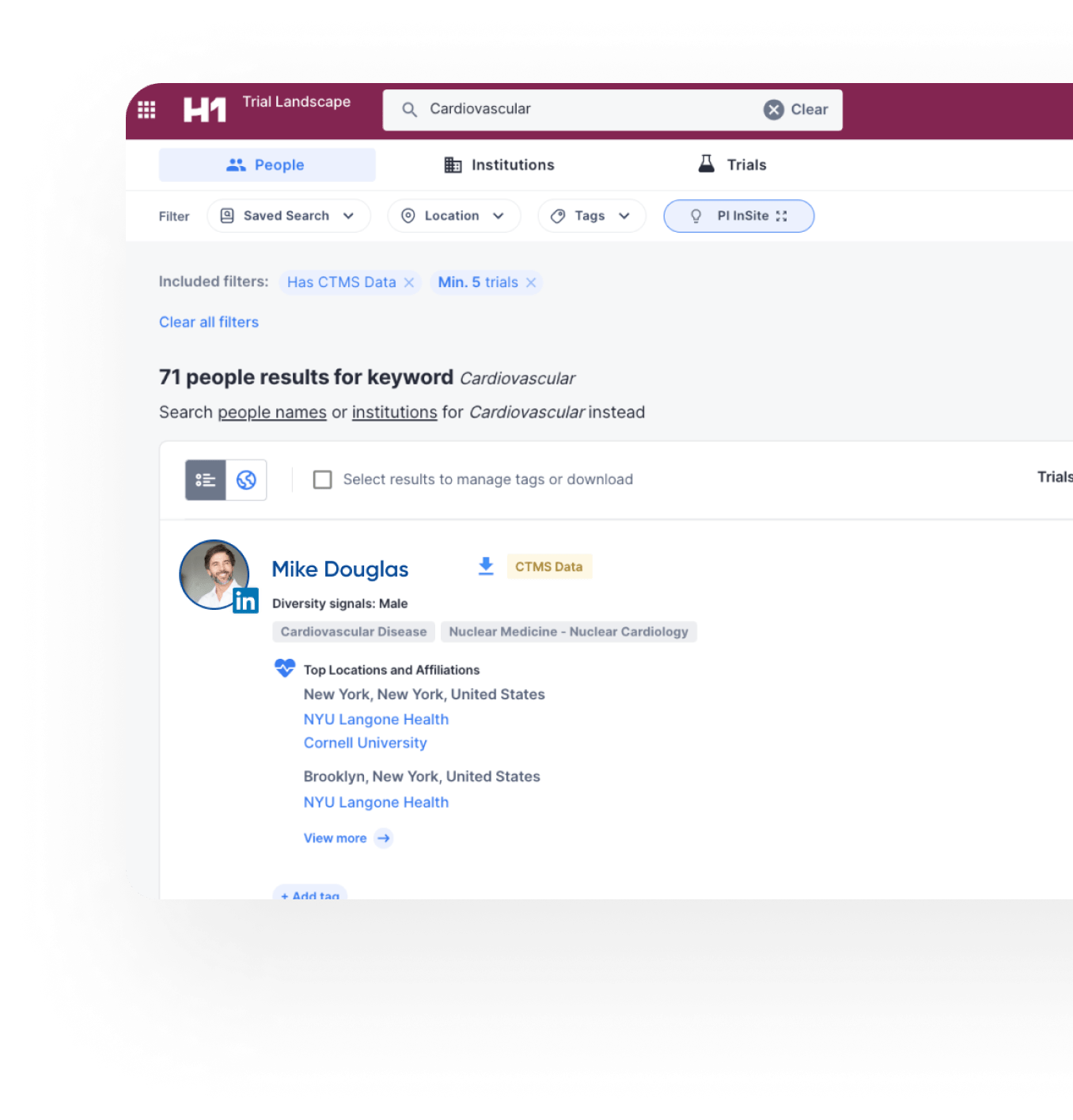 Data feeds
Our data feeds support interoperability without disrupting current workflows. Clients can choose from basic and premium data elements or choose to participate in the H1 Performance Data Network which combines client-provided data files, such as the output from Clinical Trial Management Systems. Data can be ingested, cleansed and mapped to H1's data library eliminating the need to maintain multiple different systems.
Trial Landscape Universe Helps You
Launch

Diverse Clinical Trials

Differentiate diverse physicians and target populations who might be eligible to participate in current and upcoming clinical studies.
Draw

on a Global Single Source of Truth

Benefit from the most comprehensive clinical trial data available, combining public data, proprietary datasets and private knowledge PIs and sites in one platform.
Deploy

Smarter PI and Site Selection Strategies

Compare internal clinical trial intelligence and performance metrics against industry benchmarks to enable more effective engagement and selection strategies for sites and PIs used by competitors and similar study designs.

Tap into U.S. and European diagnosis and procedure data to discern treatment focus, patient volumes, and treatment area direction for HCPs and KOLs.