Stay at the forefront of medical research in your treatment area and keep pace with the rapidly evolving body of clinical research, expert clinical trial evaluations and research opinions.
Tap into this singular repository of medical research evaluation and burgeoning medical community to read concise recommendations of the most recent and significant developments in your field to ensure you are up to date on the latest medical advances and recommended research.
H1 Connect

 provides unbiased, timely recommendations and evaluations of pivotal clinical research by a

global faculty of subject experts.
With over 240,000 research recommendations for articles from over 4,500 journals across 40+ major areas in life sciences and medicine, H1 Connect allows researchers to keep abreast of emerging literature and find the most relevant work in their field and beyond. Comprising written reviews, multiple metrics and powerful search capabilities, H1 connect gives the research community the tools to discover and explore the very latest in scientific medical and clinical research.
Hone in

on Key Clinical Research
Quickly find the top ranked research for your treatment area of concern. View top all-time or recently published rankings across a broad array of therapy areas and indications.
Keep

 pace with rapid advancements
Assess the applicability and relevance of research to patient populations, considering factors like patient preferences, comorbidities, and healthcare system constraints.
Contribute

to the Curated Body of Scientific Knowledge
Discover recommended research, develop ideas, and identify partners to collaborate with on future research projects and initiatives.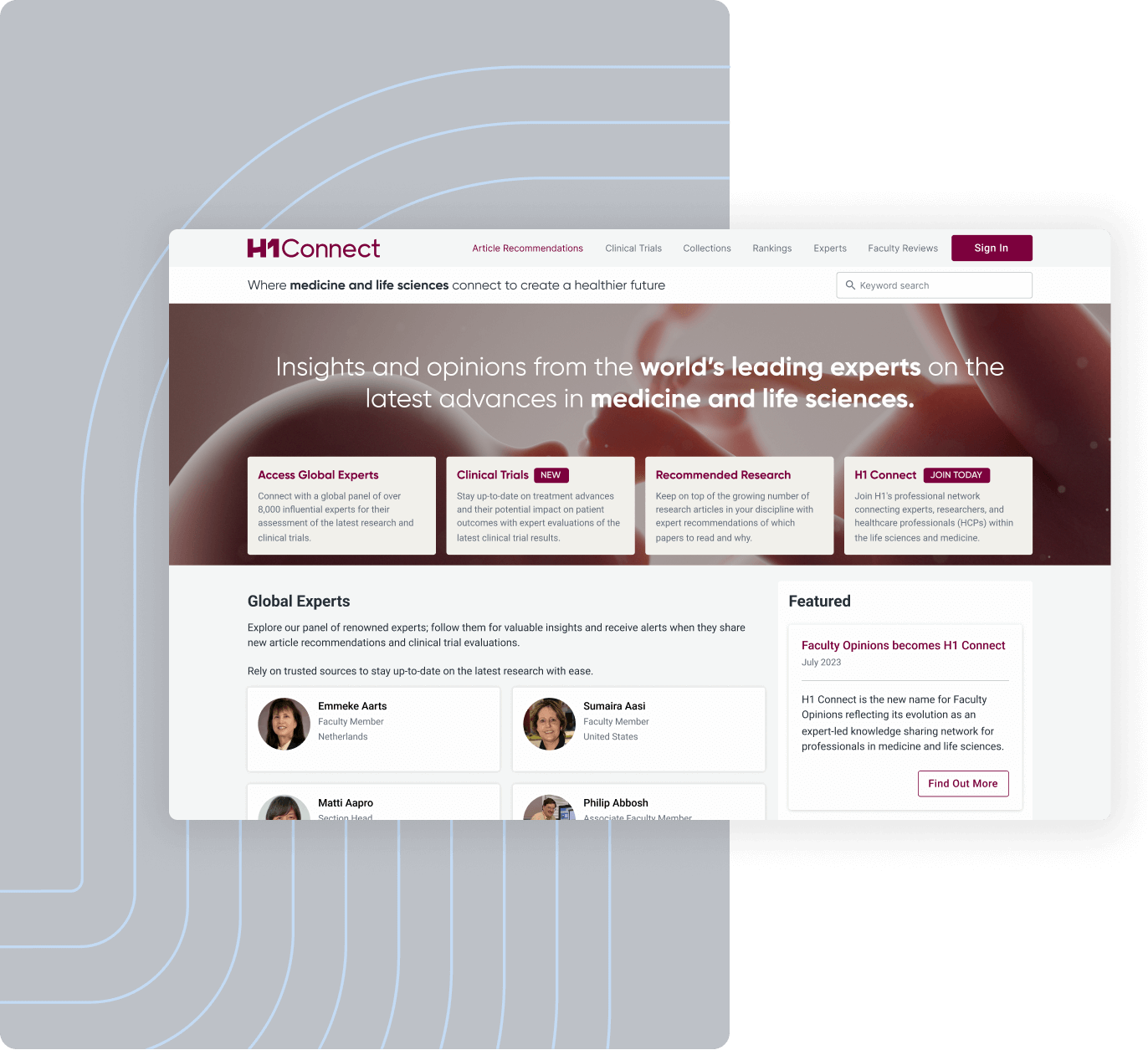 In a scientific ecosystem where the sheer volume of clinical research output is overwhelming, H1 Connect empowers users to quickly and easily discover the best and most up-to-date recommended research in the medical and life sciences, based on the opinions of subject matter experts who have personally reviewed and evaluated the literature.
Our global faculty of over 8000+ experts — Nobel Laureates, Lasker award winners, and fellows of national scientific academies — continuously and systematically evaluate the latest clinical trials and scans breakthrough literature and research to recommend to users. Expert research opinions and recommendations appearing on H1 Connect include a written review and powerful metrics that put the research in context for the reader through thematic classifications, ratings and rankings.
H1 Connect helps you:
Save time keeping current on emerging analysis in your own and adjacent treatment areas across the research community.
Understand expert research opinions on a specific piece of medical research.
Access expert opinions on the top 1% of the biomedical literature indexed in PubMed to accelerate adoption of superior therapies and protocols around the world.