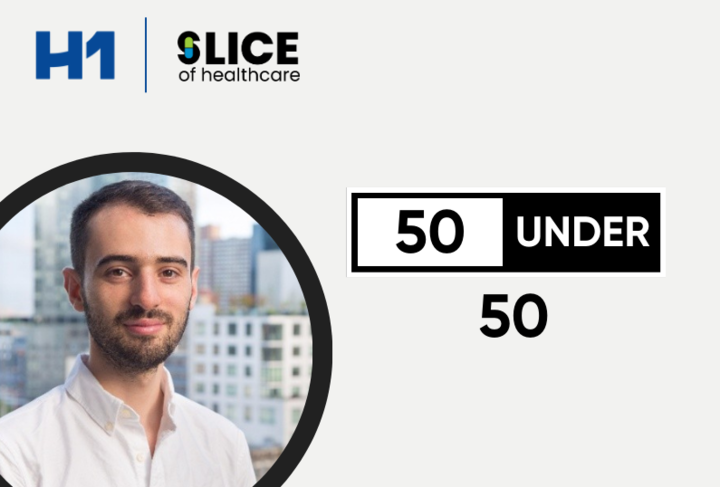 NEW YORK, October 3, 2023 — H1, the leading source of truth for global Healthcare Professional, clinical, scientific, and research information, today announced that its co-founder and CEO, Ariel Katz, has been named to Slice of Healthcare's first-ever 50 Under 50 list.
The award recognizes 50 of the most innovative entrepreneurs and healthcare leaders creating significant impacts across the pharma, biotech, digital health, medical device, dental, and health IT spaces. Companies on the list span across 17 states and three countries, have raised over $9 billion combined, and acquired more than 15 companies. Other nominees include: Sean Mehra (HealthTap), Florian Otto (Cedar), Michelle Longmire (Medable), and Carolyn Starrett (Flatiron Health).
"We are excited to announce our first annual 50 Under 50 list," said Jared S. Taylor, Founder at Slice of Healthcare. "This list represents entrepreneurs spanning several generations who are changing the world of healthcare. We are proud to honor their continued contributions in the healthcare industry."
"Everything we do at H1 is fueled by one core goal: to make healthcare better, safer, and more equitable. It is always humbling to be recognized for work that I consider to be essential, and I thank Slice of Healthcare for this honor," said Ariel Katz, CEO and co-founder, H1.
Last spring, Katz was also named to Slice of Healthcare's first-ever Top 35 Digital Health Leaders of 2023 list, which recognized individuals who have made significant contributions to the digital health space and are driving innovation within the industry.
Slice of Healthcare is a top healthcare media company that focuses on highlighting the latest trends and innovations in the healthcare industry through its 15 podcast shows. The publication's bite-sized videos feature introductions to healthcare tech companies, founder and stakeholder stories, and conversations about trends in the space – providing its audience with insightful, thought-provoking conversations that inform and inspire.
About H1
H1 connects the world to the right doctors and is the leading source of truth for global HCP, clinical, scientific, and research information. Leveraging next-gen analytics and AI, H1's enterprise solutions democratize access to HCP data, diversity insights and groundbreaking research for life sciences, academic medical institutions, health systems, and payers. The H1 platform fuels a robust product suite that helps support the advancement of innovative and inclusive medicine. Today, more than 250 customers trust H1 to keep them current with the latest information on HCPs everywhere including their clinical and scholarly work and spheres of influence, connect them with the right thought and treatment leaders digitally and face-to-face, guide their strategies to increase adherence to evidence-based medicine, inform inclusive clinical trial design, provide access to groundbreaking science, and accelerate time to market. Learn more at https://www.h1.co.
Media Contact:
Caroline Statile
Scratch Marketing + Media for H1
[email protected]