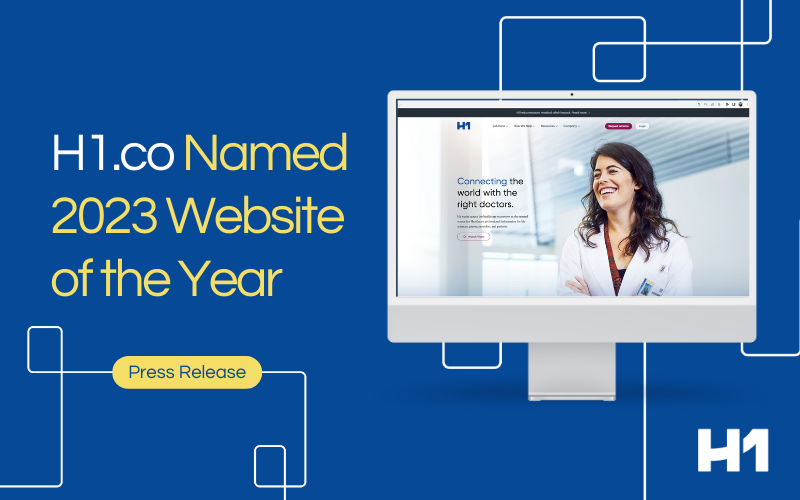 H1's new brand strategy and website recognized by HITMC for its visual appeal and stellar content.
New York, NY – April 18, 2023 – H1, the connecting force for global healthcare provider, clinical, science, and research information, is proud to announce that it has been awarded the prestigious title of "Best Website of the Year – Health IT Company" for 2023 by the Healthcare and IT Marketing Community (HITMC).
The HITMC Awards celebrate excellence in healthcare marketing and communications, recognizing organizations and individuals who demonstrate outstanding achievements in the field. H1's newly relaunched website was recognized for its exceptional design, functionality, user experience, and innovative approach.
"We are honored to receive this recognition from HITMC," said Lizzy Feliciano, Chief Marketing Officer of H1. "The website represents our company's bold new visual brand and identity through a reimagined user experience and is a major leap for H1's online presence. Winning the Best Website of the Year award is a testament to the dedication of our team in creating an online presence that stands out in the competitive healthcare tech landscape and our ability to connect the world of technology with a human mission."
The goal of H1's new site was to humanize the brand and showcase the connections that exist between people, data, and technology, supporting its mission to create a healthier future for people around the world. The reimagined site was specifically designed to offer a rich and informative buyer journey. With the largest and most comprehensive online doctor platform today powering over 250 healthcare organizations in 80 countries, the new digital presence vividly showcases how H1 is helping connect the world to the right doctors and positively impacting the lives of patients everywhere.
"Our creative partnership with H1 focused on fully expressing their company and platform through a bold new brand design system, which we used to meticulously craft an all-new website experience. The result is a website that delivers a memorable and impactful experience, designed to showcase the power of the H1 platform," said Mike Cuesta, Partner & Creative Director at Atomic Health.
H1's website combines a modern and visually appealing design with a seamless user experience to reflect the company's brand identity and expertise in healthcare insights. It offers easy navigation, engaging content, and interactive features that provide valuable insights for healthcare professionals. The website also showcases H1's portfolio of solutions, case studies, and thought leadership content, demonstrating the company's deep industry knowledge and expertise.
"When we embarked on our website redesign and brand relaunch, we prioritized not only ease-of-use and visual aesthetic, but more importantly, the ability to highlight our mission in an intuitive and meaningful way," added Lizzy Feliciano, Chief Marketing Officer at H1. "We are proud that this new site has been recognized by our peers at HITMC, and we thank our creative partners at Atomic Health and Scratch Marketing + Media who helped make our vision a reality. It's such an honor to be in the company of Boston Children's Hospital and other distinguished winners of this award."
This award is the latest in a series of honors for H1 this year, including being named to the New York Digital Health 100 list, Y Combinator's 2023 Best Companies List, and Slice of Healthcare's Inaugural Digital Health Leaders list. For more information on H1 and its solutions, visit h1.co.
About HITMC
The Healthcare and IT Marketing Community (HITMC) brings together marketing professionals and patient advocates to improve the healthcare industry by advancing marketing, public relations, and communications. The 2023 HITMC awards were sponsored by Medigy.
About H1
H1 is the connecting force for global HCP, clinical, scientific, and research information. The H1 Connect platform democratizes access to HCP knowledge and groundbreaking insights for life sciences, academic medical institutions, health systems, and payors. H1 Connect fuels a robust product suite that helps customers discover and engage industry experts, drive equitable research, access groundbreaking science, and accelerate commercial success with the most robust and accurate healthcare professional data. Learn more at h1.co.
Media Contact:
Anya Nelson
Scratch Marketing + Media for H1
[email protected]