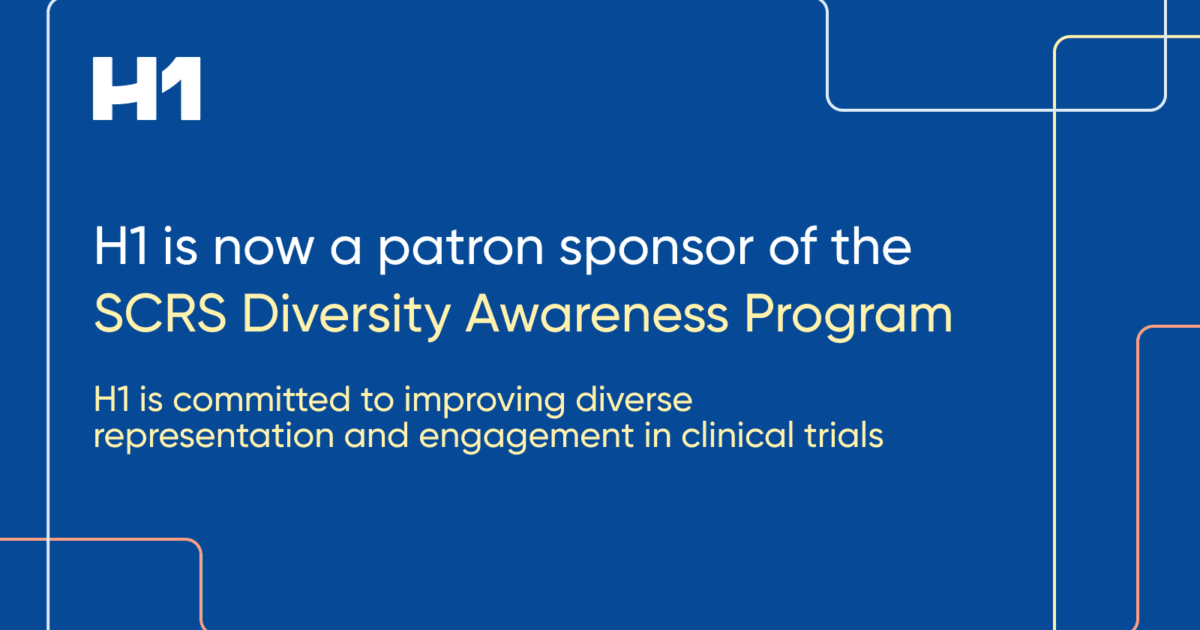 Hanover, MD, June 21, 2022 – The Society for Clinical Research Sites (SCRS) is pleased to announce that H1 is now a patron sponsor of the SCRS Diversity Awareness Program. SCRS developed its Diversity Awareness Program to engage industry stakeholders in this important dialogue and develop resources to strengthen site preparedness for effective recruitment of diverse patients. Through this partnership, H1 will align with other Sponsors, CROs and industry solution providers committed to improving diverse representation and engagement in clinical trials.
"Inclusion is the precursor to building trust between patients and doctors and the bridge leading to a more equitable healthcare system for all. Everyday we work with top 20 pharma companies to build equitable clinical trial strategies," said Ariel Katz, Co-Founder and CEO of H1. "In order to achieve true equity in healthcare, diversity needs to be fostered and improved at every step of the drug product life cycle, from research to clinical studies and post-approval communication and education. Along this entire path, the organization must ensure that diverse voices are included and the needs of diverse patient populations are taken into account. That is why we wanted to support and sponsor the valuable contributions of SCRS to increase diversity within clinical trials," he added.
"H1 is not only committed to increasing diverse participants in clinical trials, but also ensuring investigators working at clinical research sites are representative of those communities and can engage in meaningful ways," said VP of Strategy and Special Projects, Diana Foster. "H1's commitment to the SCRS Diversity Awareness Program will support SCRS in sharing and developing resources, knowledge and best practices that will help industry meet FDA's diverse enrollment initiatives."
About H1
H1 is the connecting force for global HCP, clinical, scientific and research information. The H1 Connect platform democratizes access to HCP knowledge and groundbreaking insights for life sciences, academic medical institutions, health systems, and payors. H1 Connect fuels a robust product that helps customers discover and engage industry experts, drive equitable research, access groundbreaking science, and accelerate commercial success with the most robust and accurate healthcare professional data. Trial Landscape is H1's clinical trial platform that combines diversity and inclusion data for principal investigators and patient segments in addition to providing a complete understanding of the clinical trial landscape. Learn more at h1.co.
About The Society for Clinical Research Sites
Founded in 2012, SCRS is a global organization that unifies the voice of the clinical research site community to create greater site sustainability. Representing over 9,500 sites in 47 countries, SCRS membership provides sites with a community dedicated to advocacy, education, mentorship and connectivity. SCRS is an influential voice for sites and an active partner in industry-wide initiatives and dialogues focused on improving the clinical research enterprise. Our Voice. Our Community. Your Success. Join the community. Visit MySCRS.org.
Contact:‍
Anya Nelson
Scratch Marketing + Media for H1
[email protected]
M: 617.817.6559